March 2017 Silverstein Lecture Series
Almost Human: How New Discoveries from South Africa Change Our View of Human Origins
The Center for Genetic Medicine of Northwestern University Feinberg School of Medicine welcomes you to attend the Silverstein Lecture Series on March 8 (Chicago) and March 9 (Evanston), featuring John Hawks, PhD, Vilas-Borghesi Distinguished Achievement Professor, Department of Anthropology, University of Wisconsin-Madison.
Human evolution was once thought to be a straight march of progress, but both ancient DNA and new fossil discoveries are showing how unexpected populations have contributed to our origins in surprising ways. The recent discovery of a huge trove of fossil bones in the Rising Star cave system of South Africa has identified a new ancestral form of human, Homo naledi, that surprised scientists around the world in many ways. The ongoing research on these ancient creatures has shown that they may have deliberately placed their dead inside a deep, remote chamber, casting new light on the origins of human sociality. Part of the lecture will take people virtually into the cave, and will feature the brave team of "underground astronauts" who worked in this dangerous environment. The lecture will also feature new discoveries made by the scientific team that help to place Homo naledi in an unexpected place in our origins.
Silverstein Lecture Series
Campus
Date
Time
Location
Chicago
Wednesday, March 8
6:00pm
Baldwin Auditorium
Lurie Medical Research Center (map)
303 E. Superior Street, Chicago
Evanston
Thursday, March 9
6:00pm
Abbott Auditorium
Pancoe Life Sciences Pavilion (map)
2200 Campus Drive, Evanston

Parking is available at the North Parking Garage (map). Parking is free and does not require a permit after 4:00pm. View walking route from garage to venue.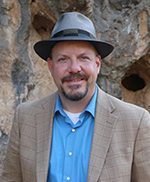 Professor John Hawks is an internationally recognized expert on human evolution and genetics and science communicator. He is best known for his work demonstrating the rapid evolution of modern humans within the past 40,000 years; and for exploring the contribution of ancient Neandertals to the ancestry of people living today. He has done fieldwork in Africa, Asia and Europe, and for the last three years has been working in South Africa with Lee Berger on the extraordinary fossil deposits of the Rising Star cave.
---
The lecture is presented by the Center for Genetic Medicine with support from the Herman M. and Bea L. Silverstein Medical Research Fund for Genetic Medicine.